Melani Pelaez Jara
Chair of Sustainability Governance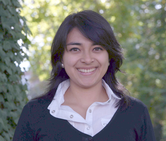 Institute of Environmental Social Sciences and Geography
Tennenbacher Str. 4
D-79106 Freiburg
Telephone: 0761 203 96846
Email: melani.pelaez@envgov.uni-freiburg.de
Research Interests   |   Professional Experience   |   Education   |   Publications
Research Interests
Environmental policy

Global governance and sustainability governance

Climate change adaptation and risk policy

Science-Policy Interface, Science & Technology Studies

International relations and cooperation

Latin America, Ecuador
Professional Experience
11.2016 – 05.2018:
Researcher at the Chair of Sustainability Governance
Project: Flood Adapt
07.2014 – 09.2016:
Consultancy and research – i.a. with GIZ GmbH
Topics: Global Governance, International cooperation instruments, Latin America
07.2014 – 02.2015:
Associate Researcher – Grupo Faro, Quito, Ecuador
Study on Climate Change International Finance for Ecuador, in coordination with the Climate Change Finance Group for Latin America and the Caribbean (GFLAC). 
01.2014 -06.2014:
Junior Project Manager, GIZ GmbH
Coordination of the international publication "Global Funds and Networks: Narrowing the Gap between Global Policies and National Implementation". Development of the concept and coordination in close collaboration with the Mexican Instituto Mora, and Nomos Verlag.
05.2013-11.2013:
Project: "Global Mechanisms: Networks and Funds". 
07.2011-10.2011:
Intern, UNEP –DTIE, Paris, France
Project: Eco-labelling: Enabling Developing Countries Seize Eco-labelling Opportunities.
09.2008-07.2010:
Education 
Since October 2016:
Doctoral candidate 

at the Chair of Sustainability Governance
Dissertation topic: Science-Policy- Society Interactions in Environmental Risk and Adaptation Policymaking: Evidence from Latin America and Europe (provisional title)
Doctoral scholarship Heinrich-Böll Foundation – Cluster Transformation Research
09.2010-03.2013:
M.Sc. Environmental Governance at Albert-Ludwigs- Universität Freiburg.
09.2010-03.2013:
Foreign Trade and International Relations Specialization Diploma, FLACSO, Ecuador.
09.2004-01.2009:
B.A. International Relations and Business, Pontificia Universidad Católica del Ecuador (PUCE), Quito.
Publications
Morales M., Peláez Jara, M. (2017). Extractive Industries and Knowledge Sharing: Experiences from Ecuador through the experts' network Evidence and Lessons from Latin America (ELLA). In C. Ayala-Martínez, U. Müller (Eds.), Towards Horizontal Cooperation and Multi-Partner Collaboration: Knowledge Sharing and Development Cooperation in Latin America and the Caribbean (pp. 95-112). Baden-Baden: Nomos
Lázaro Rüther, L., Peláez Jara, M. (2015). Exploring International Development Cooperation Funds – International Experiences on Governance and Design of Funds. Eschborn-Bonn: Deutsche Gesellschaft für Internationale Zusammenarbeit (GIZ) GmbH.
Peláez Jara, M., Herrera, J. (2014). Financiamiento Internacional para el Cambio Climático en Ecuador. Grupo FARO & Grupo de Financiamiento Climático LAC (GFLAC). Accesible via http://gflac.org/pdf/faro.pdf
Lázaro Rüther, L., Müller, U., & Peláez Jara, M. (2014). Cooperation with Global Funds. In L. Lázaro Rüther, C. Ayala Martínez, & U. Müller (Eds.), Global Funds and Networks: Narrowing the Gap between Global Policies and National Implementation (pp. 103-125). Baden-Baden: Nomos
Lázaro Rüther, L., Müller, U., & Peláez Jara, M. (2014). Cooperation with Global Networks. In L. Lázaro Rüther, C. Ayala Martínez, & U. Müller (Eds.), Global Funds and Networks: Narrowing the Gap between Global Policies and National Implementation (pp. 127-155). Baden-Baden: Nomos
Peláez Jara, M., (2014). The Creation of the Common Code for the Coffee Community and the 4C Association. In L. Lázaro Rüther, C. Ayala Martínez, & U. Müller (Eds.), Global Funds and Networks: Narrowing the Gap between Global Policies and National Implementation (pp. 221- 236). Baden-Baden: Nomos